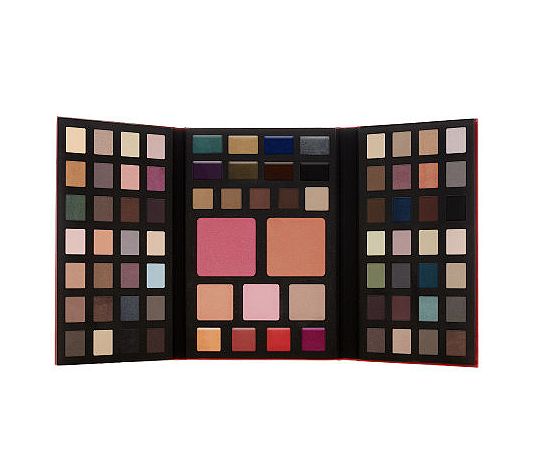 Shiny new toy! I bought this a couple of weeks ago on QVC and just had the chance to tear into it now that I'm home for winter break. It includes every eyeshadow trio that Smashbox makes, conveniently loaded into one seriously magnificent palette. I can't wait to play around with this and post some inspiring new looks!
One of my favorite qualities about this palette is how small it is. Everything folds up neatly into a flat palette.
But honestly the biggest selling point of this palette for me is the incredible value. If you were to buy all of these things from Smashbox separately, it would cost you hundreds of dollars. The quality is unsurpassed- everything is so creamy and workable. It's not one of those eyeshadow palettes where you dip your brush into a color and powder goes flying everywhere. All of the dry formulas in this kit are silky smooth and very easy to blend.
This would be a great palette for beginners, pros, or anyone inbetween! The shadows are broken up by trio so it's very user-friendly if you have no idea how to mix colors. More updates soon on different looks you can accomplish with this palette!
So here are the deets:
Cost- $95
What it comes with- 56 eyeshadows, 4 brow tech powders, 1 brow tech wax, 8 cream eyeliners, 2 blushes, 3 Soft Lights, and 4 lip glosses.
Quality- beyond amazing. everything is so creamy.